The Freedom Project is dedicated to the actualization of freedom in the U.S. and abroad. As such, we partner with various foundations, think tanks, and non-governmental organizations to provide students with real world experience putting their knowledge into practice.  Following are the organizations the Freedom Project collaborates with for the internship program.
Please note as the students are chosen, the dates for the specific internship may vary due to travel arrangements and requirements at each company.  The internships are open to undergraduate students. 
The Freedom Project has confirmed with Wellesley Career Education that these opportunities are eligible for the Summer Internship Credit and its accompanying resources, including pre-departure and ongoing summer support.  The presence of this non-academic transcript credit signals to future employers and institutions that your experience meets distinct institutional standards for internships.  Once selected for placement, students will be asked to confirm their placements through the summer credit approval process.  Please visit the Career Education website for more information.
Index on Censorship
The Freedom Project is offering up to three internships at the prestigious international organization, Index on Censorship, located in London.
The organization is at the center of the global movement to protect freedom of expression and its flagship publication has been a major medium for the publication of dissident voices, coverage of violations of freedom of expression, and campaigning to protect the fundamental human right of freedom of expression around the world.
The internship is for up to a ten-week period between June 3-August 9. The duties are variable, but will include: desk-based advocacy research, such as doing internet research on cases of free expression violations; support of Index freedom of expression award fellows and follow-up interviews; journalism (such as carrying out phone interviews) and writing for publication; some administrative work - usually one day per week helping organize data or sending magazines to subscribers.
The internship will cover round-trip airfare as well as a stipend to cover basic living expenses (food, lodging, and local transportation). The exact amount of the stipend will be determined in consultation with the successful candidates for the internship.  Interns will be responsible for finding their own accommodations for the ten-week period.
The internship is open to all first-years, sophomore and junior students. Graduating seniors, unfortunately, are not eligible. The internship requires excellent writing and communications skills, organizational capability, and a high level of maturity and responsibility.
The application consists:
An essay of no more than two double-spaced, which details your reason for pursuing the internship – including a statement why you think you would fit in with the principles and goals of Index on Censorship.

Relevant experience and/or coursework (including any language skills that might be pertinent).

A writing sample that reflects your academic, analytic and writing abilities.
The application should be consolidated into one PDF file and sent to: freedomproject@wellesley.edu, by November 15. Interviews with a short list of candidates will be held soon thereafter and final decisions will be made.
Oslo Scholars Program
The Freedom Project is pleased to announce up to three upcoming internship opportunities with the Oslo Scholars Program (OSP). The program was established by the Human Rights Foundation, a nonpartisan nonprofit organization that promotes and protects human rights globally, as a way to engage a new generation of human rights defenders.
Established in 2010, OSP offers undergraduates with a demonstrated interest in human rights and international political issues, the opportunity to spend their summer working with some of the world's leading human rights defenders and activists. OSP strives to provide students with invaluable networking and learning opportunities, while enabling a practical, hands-on approach to human rights activism and advocacy work. Selected candidates will also have the opportunity to attend HRF's flagship event, the Oslo Freedom Forum (OFF), in Norway.
Oslo Scholars are selected based on their working knowledge of human rights, language abilities, and long-term career and professional goals. The term of the OSP internship typically extends over the summer season, lasting roughly eight to ten weeks between May and September. Scholars are thus encouraged to travel to the location where their mentor is based for the duration of the internship, contingent on unforeseen circumstances such as: prohibited travel issued by government officials for safety concerns, visa matters, etc. Nevertheless, remote work is very much a possibility for OSP internships, where conditions apply.
OSP internship opportunities vary each academic year and are often shaped by the participating mentors. Past internships have included: researching nonviolent protest strategies in Serbia; raising the awareness of Bangladeshi artists and writers at risk in Norway; remotely conducting research on torture and rehabilitation; assisting with event coordination for activists in South Korea; and performing translation for on-ground activists in numerous locations around the world.
Interested students are invited to submit a personal statement and resume by November 15 to: freedomproject@wellesley.edu.
The Pioneer Institute
In light of our successful partnership with the Index on Censorship, the Freedom Project is offering one internship at the influential state-based organization, Pioneer Institute, in Boston.
Pioneer Institute is an independent non-partisan privately funded research organization that seeks to improve the quality of life in Massachusetts through civic discourse and intellectually rigorous, data-driven public policy solutions based on free market principles, individual liberty and responsibility, and the ideal of effective, limited and accountable government. Their main policy focuses are education, healthcare, better government and economic opportunity, and their mission is based on the principles of economic mobility and fair play. Pioneer is a resource for the public, legislators on Beacon Hill and staff in the State's executive offices and attract more media coverage than any other research institute in Massachusetts.
The internship is for the summer semester, starting in mid-late May and ending in August. It is a 32-hour per week (4 full-time work days) commitment and the specific days/times would be worked out between you and the Pioneer Institute. Interns will support Pioneer staff working on a number of projects that include communications and marketing- oriented components as well as more policy-focused initiatives. The role would be writing intensive with opportunities for blogging on a range of policy-related subjects and would also include some administrative support on fundraising and events.
Students will receive a stipend to cover transportation and costs of living.
The ideal candidate will be a college sophomore, junior or senior in communications, political science or government, marketing, public policy, economics or a related field. Applications from all majors will be accepted. The role requires excellent writing and communications skills, organizational capability, and a high level of maturity and responsibility.
The application consists:
A resume and cover letter

A writing sample (between 4-10 pages)

The application should be sent to: freedomproject@wellesley.edu by November 15. Interviews with a short list of candidates will be held soon thereafter and final decisions will be made.
The Henry Jackson Society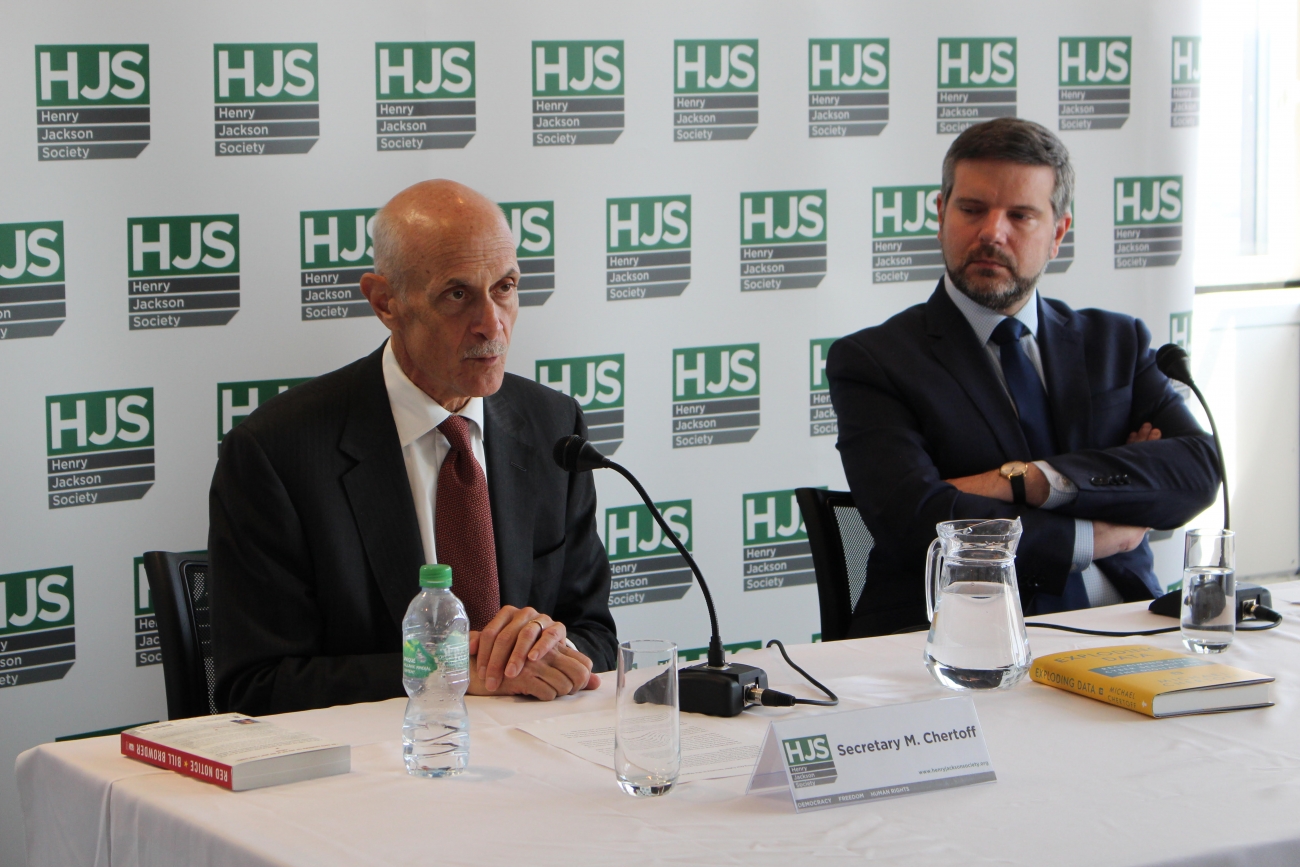 The Freedom Project is also offering one internship at The Henry Jackson Society based in London, UK. 
The Henry Jackson Society is a cross-partisan British think tank named after the American politician Henry M. Jackson, the late Democratic Senator. The society was founded in 2005 by academics and students at Cambridge University. The pursuit of a robust foreign policy was one of Henry 'Scoop' Jackson's most central concerns. This was to be based on clear universal principles such as the global promotion of the rule of law, liberal democracy, civil rights, environmental responsibility and the market economy.  It organizes meetings with speakers in the House of Commons and publishes books and reports on contemporaruy issues in democracies. The society advocates an internationalist foreign-policy that promotes human rights and reduces suffering.  
The Wellesley student elected as intern for The Henry Jackson Society will spend 4-6 weeks in the summer in London and will receive a stipend for expenses. 
The application consists:
A resume and cover letter

A writing sample (between 4-10 pages)

The application should be sent to: freedomproject@wellesley.edu by November 15. Interviews with a short list of candidates will be held soon thereafter and final decisions will be made.

 
Scholars at Risk
Another institutional partner of the Freedom Project is Scholars at Risk, which is an international network of institutions and individuals whose mission it is to protect scholars and promote academic freedom. By arranging temporary academic positions at member universities and colleges, Scholars at Risk offers safety to scholars facing grave threats, so scholars' ideas are not lost and they can keep working until conditions improve and they are able to return to their home countries.
Scholars at Risk also provides advisory services for scholars and hosts, campaigns for scholars who are imprisoned or silenced in their home countries, monitoring of attacks on higher education communities worldwide, and leadership in deploying new tools and strategies for promoting academic freedom and improving respect for university values everywhere.
The Freeedom Project at Wellesley College is actively working with Scholars at Risk, providing shelter for academics and intellectuals who would be in serious danger in their home countries merely for their principled defense of human rights.